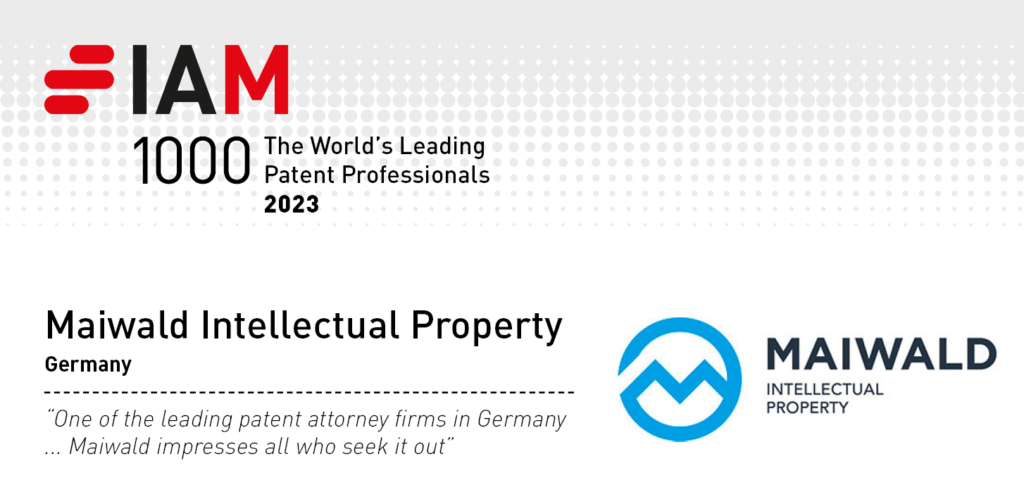 We are honored to be listed again this year in IAM Patent 1000: The World's Leading Patent Professionals. The IAM Patent 1000 recognizes companies and individuals who are considered outstanding in the important field of patent law. This year we are again represented in the categories "European Patent Office" as well as "Firms: prosecution and nullity (Germany)".
IAM says about Maiwald:
"Maiwald cultivates excellent team spirit, rendering interactive collaboration between the different teams highly productive and leads to great results. The group easily adapts to urgent, large-volume projects. The intensity and effort they put into their work products is outstanding. They work seamlessly as teams, transparently and cooperatively, and they place a premium on recruiting, training and motivating top-level junior talent."
Our partners' were ranked as leading individuals for the following fields:
Prosecution und Nullity (Jurisdiction Germany):
Dirk Bühler
Eva Dörner
Eva Ehlich
Sophie Ertl
Naho Fujimoto
Norbert Hansen
Martin Huenges
Lutz Kietzmann
Andreas Ledl
Alexander Ortlieb
Alexander Schmitz
Christian Schäflein
Derk Vos
Angela Zumstein
Infringement & Transaction (Jurisdiction Deutschland):
European Patent Office:
Dirk Bühler
Norbert Hansen
Derk Vos
IAM says:
Dirk Bühler has deep sector expertise and can prosecute patents across a spectrum of technological areas with medical applications. His commercial awareness routinely serves patrons on complex SPC matters and FTO strategies.
Eva Dörner is a gifted attorney who knows her field extremely well. She is collaborative, enjoyable to work with and can be recommended without hesitation to anyone working in chemistry or pharma, especially on contentious matters.
Eva Ehlich is a brilliant, highly experienced and dedicated attorney combining an impressive degree of long-sightedness with exceptional attention to the countless details of a case. She gets great results and is also a nice person to work with.
Armed with reams of portfolio management expertise and technical support at infringement matters, Sophie Ertl is a safe bet for companies seeking protection of inventions across the automotive, medical device, process technology and general engineering fields.
Naho Fujimoto is a fluent Japanese speaker with a large and sophisticated practice for Japanese pharmaceutical and biotech names seeking protection in Europe. Strategically minded and sharp, she provides high-level portfolio advice, conducts comprehensive searches and prepares FTO analyses.
Norbert Hansen has developed a wide-ranging practice encompassing chemical engineering, as well as material science and semi­conductor innovations. With an eye for detail, he is an excellent choice for prosecution work but is equally accomplished fighting complex oppositions.
Martin Huenges is a smooth operator at the EPO, with a solid track record of success and extensive experience coordinating parallel proceedings. A pharmaceutical and biotech specialist, Huenges· deep industry knowledge is also an asset in FTO analyses.
Mechanical engineer Lutz Kietzmann has deep familiarity with hydraulic, pneumatic, automotive and transmission systems, and has also drafted numerous patent applications in the field of industrial automation, including software-implemented inventions. He is also skilled in wind­turbine technology.
Andreas Ledl is a skilled portfolio manager with an instinct for commercialisation strategies. A biochemist by training, Ledl has made himself instrumental to clients in the cutting-edge RNA space. His sector­wide knowledge lends itself to FTO analyses and due diligence.
Physicist Alexander Ortlieb is a dab hand with opposition proceedings, while his drafting and prosecution strengths range across medical technologies and diagnostics, computer-implemented inventions and telecommunications. Commercially sensitive, Ortlieb knows how to get the most out of his clients assets.
Electrical engineer Alexander Schmitz serves up top-level European patent prosecution for one of the world's best-known telecom companies, manging their portfolio with aplomb and pushing through nearly 400 European patent actions a year.
Christian Schäflein demonstrates professionalism and seamlessly cooperates with in-house teams. He is highly motivated and committed and adheres strictly to agreed schedules. He is reliable and his communications are keyed exactly to what the client needs to know.
With robust enforcement experience and deep knowledge of the laws governing tech transfer agreements and patent licensing, Marco Stief is an excellent adviser for patent legal issues. When not advising clients, Stief lectures aspiring IP professionals at two universities.
Derk Vos is at home in both organic and inorganic chemistry, counselling pharmaceuticat clients as wett as industriat tubricant manufacturers. Technicatty astute and commercially focused, Vos has a tong track record of getting the most value out of his patrons intellectual assets.
Angela Zumstein has extensive portfolio management experience and regularly advises on SPC enforcement issues. A diligent and broad­ranging technician, she serves up technically precise and commercially informed prosecution work.
Read the full ranking entries for the jurisdiction Germany here.
For the full ranking entries for the jurisdicion Europe, please here.