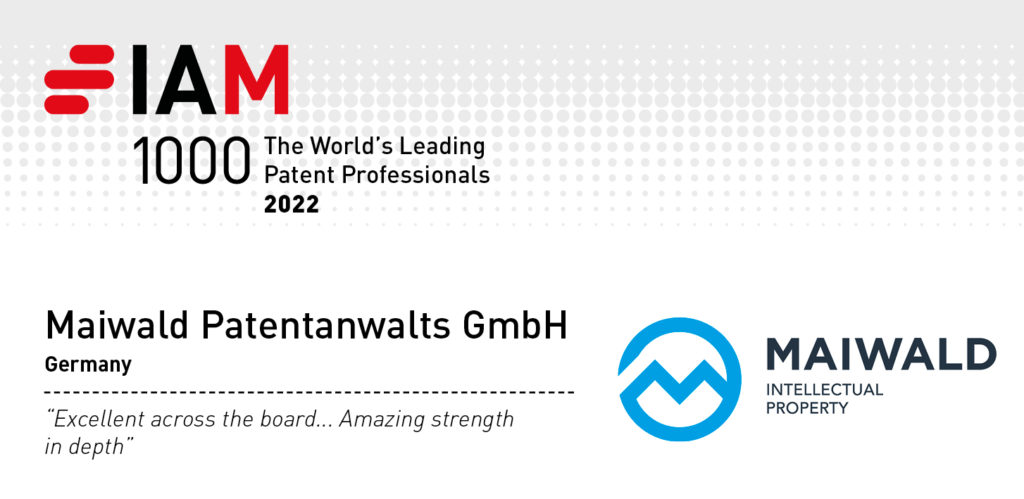 We are delighted to be again represented by eight honoured partners in this year's practicioner and firm rankings by IAM Patent 1000: The World's Leading Patent Professionals 2022. IAM's purpose is to gather the best patent professionals from the most important jurisdictions. The IAM Patent 1000 shines a spotlight on the firms and individuals that are deemed outstanding in the pivotal area of patent law.
IAM 1000 has awarded Maiwald the rating "recommended" in the category Prosecution & nullity for the jurisdiction Germany. For the jurisdiction "European Patent Office" the firm was able to secure a ranking within Gold-tier.
Our partners' were ranked as leading individuals for the following fields:
Prosecution und Nullity (jurisdiction Germany):
The following partners were ranked as recommended individuals for the jurisdiction European Patent Office:
Furthermore, Dr Marco Stief was able to secure a silver-tier band in the category Infringement & transaction (jurisdiction Germany), meaning that silver-banded individuals attract extensive feedback and are renowned for their top-end work.
Read the full ranking entries for the jurisdiction Germany here.
For the full ranking entries for the jurisdicion Europe, please click here.
IAM says:
Alexander Ortlieb has added significantly to his winning track record in oppositions and appeals recently and has a lot of momentum. He's an excellent team player with wide-ranging expertise encompassing medical, computer, mechanical and other technologies.
Creative, determined and very responsive", Andreas Ledl is intimately familiar with the pharmaceutical industry. He is relied on for strategic advice around filings and freedom-to-operate issues and inspires confidence through his proficiency handling worldwide prosecution.
Christian Schäflein demonstrates an unwavering commitment to patent quality and high-level expertise in areas such as information technology and artificial intelligence. Clients have been sending more work his way at a significantly increased rate because he never lets them down.
Derk Vos has long cemented his name as a force to be reckoned with in EPO oppositions and appeals, as well as a rigorously commercial strategic counsellor and portfolio manager. He's one of the most in-demand practitioners among chemical and pharmaceutical innovators.
Dirk Bühler is a fount of insight and analysis regarding SPCs and a repository of trust when it comes to patent litigation, EPO oppositions and other contentious proceedings. For biotechnology, healthcare and other clients, he provides full-scope strategic IP support.
Eva Ehlich distinguishes herself as a top expert regarding worldwide IP planning. Her clients include market-leading biopharmaceutical companies who entrust her with global portfolios and rely on her excellent team management and strategic coordination skills.
Marco Stief is superb in his captaincy of Maiwald's growing legal department and does an excellent job ensuring an integrated approach between the firm's lawyers and patent attorneys. He is a tactically astute litigator with high-level pharmaceutical industry experience.
One of Germany's top patent attorneys in the fields of chemistry, materials science and semiconductors, Norbert Hansen is the ideal partner for prosecution, portfolio management, EPO oppositions and litigation.