About Maiwald
Your concerns are paramount
As one of Germany's largest and best-known firms in the field of intellectual property (IP), providing optimal services to our clients is of paramount importance to us. Our team comprising about 230 people in Munich and Düsseldorf works closely with each other and with foreign associates, always with an eye to the client's particular needs, regardless of the particular industry or type of company, whether start-up, medium-sized firm or large corporation, in Germany and worldwide. We at Maiwald will do everything to ensure that all your IP matters are handled with competence and commitment.
Full package of IP services from a single source
You can rely on Maiwald's wide-ranging expertise. We provide a full range of services covering all aspects of IP law. Our highly qualified patent attorneys and attorneys-at-law unite all of the most important skills one would expect of an interdisciplinary team: sound legal knowledge, business proficiency and a broad range of technical and scientific know-how. And, it goes without saying, absolute professionalism, efficiency and close attention to the needs of each individual client. So you may be assured of receiving the best possible advice on all IP-related issues based on our proven competence and industry knowledge.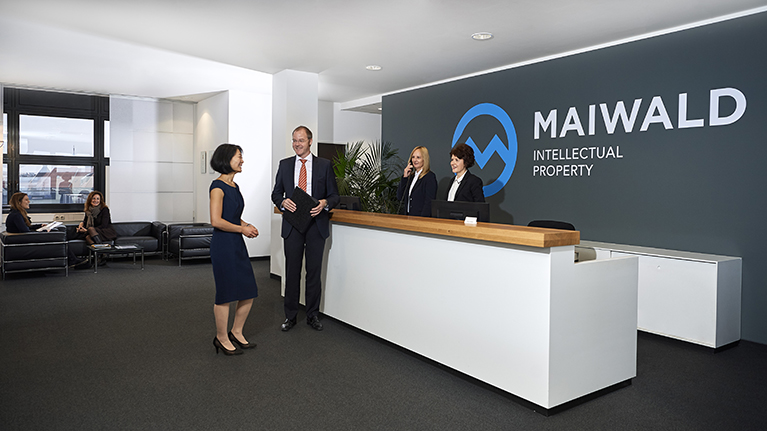 Individual attention to each client
You and your IP concerns are the focus of our work. This is why client-oriented and personal consultation form the whole basis of our professional approach. About 80 highly qualified patent attorneys and attorneys-at-law, an in-house patent search department and numerous client-specific teams of assistants are at your disposal. Day for day these dynamic teams apply their skills to solving your IP problems. Both sides gain from the cooperation, as is evidenced by the many long-standing business relationships with satisfied clients.
Testimonials
"[…] a glowing reputation for its stellar prosecution and transaction output. The firm continues to light up the patent scene with its unique take on non-contentious briefs."
IAM 1000, 2016
"This IP boutique recommended for patents enjoys a solid reputation for work for the pharmaceutical sector – both prosecution and litigation – and boasts a very active, mixed litigation team with many years of experience."
JUVE German Commercial Law Firms, 2017
"Excellent US contacts."
JUVE German Commercial Law Firms, 2017
"Maiwald Patentanwalts GmbH has a 'high understanding of clients' needs' and is noted for its 'outstanding quality of work' and providing 'valuable advice'. The 'big team spirit, also with regard to client relationships' stands out alongside the 'practically oriented working methods' and 'deep industry expertise'."
Legal 500 Germany, 2018
"The attorneys win praise for their confident demeanour in oral proceedings and their proactive attitude."
Chambers Europe, 2018
"One client says: 'They understand the technology quickly, are very skilled in handling oral proceedings before the EPO, and present arguments really well. All the attorneys are very service-minded and usually a step ahead, suggesting things we want to do before we even ask for them.'"
Chambers Europe, 2018
"With special technical knowledge of the biotechnology sector, the firm has always been a favourite among pharmaceutical companies, but it is now also making significant inroads into the electronics and telecoms worlds."
IAM 1000, 2018
"Prosecution and post-grant validity challenges before the EPO account for a significant slice of Maiwald's workload, but multi-jurisdictional infringement battles also weigh heavily."
IAM 1000, 2018
"This 'dynamic team of patent attorneys, legal counsel and technical experts' won praise for its combination of 'speedy handling' and 'in-depth technical and industry-related knowledge'. Also emphasized were its 'competence in opposition proceedings', its 'excellent service' and 'pragmatic advice' as well as 'outstanding industry knowledge' and 'special expertise in the fields of pharma and life sciences.'"
Legal 500 EMEA, 2019
"One client says: 'For prosecution and opposition work, I rate Maiwald highly - I have been impressed by their attention to detail, strategic mindset and good technical knowledge.'"
Chambers Europe, 2019
"One client says: 'I would definitely say that their knowledge is second to none, it is a very robust team with a high level of detail and a high level of knowledge.'"
Chambers Europe, 2019
"The handling of international proceedings and Maiwald's reputation for meeting challenges and achieving excellent results are particularly highlighted. IAM emphasizes Maiwald's outstanding client base abroad and in particular the representation of Japanese clients in EP proceedings."
IAM 1000, 2019
"Maiwald is one of the best in the business for EPO and German patent office prosecution and contentious proceedings."
MIP IP Stars, 2019
"In the area of [biotech patents] in particular, Maiwald is a leader in patent prosecution and litigation."
JUVE German Commercial Law Firms, 2019/2020
Company Culture & Diversity
Success through diversity
We are convinced that the diversity of our team is a major factor in our success. It is not surprising that people of diverse cultural and religious backgrounds, age groups and lifestyles will approach a problem from different perspectives, often arriving at better, more creative and viable solutions than will a homogeneous team. Not only our own firm benefits from this philosophy, but also our equally varied international clients. This is why diversity is an essential element of our company culture.
Open door policy
At Maiwald work is carried out in a relaxed and informal atmosphere with an open door policy and is characterized by mutual respect and open-mindedness. Each individual is valued equally for his or her very own capabilities and character regardless of gender, family situation, origin, religion, sexual orientation or physical disabilities.
Mixed teams
We are proud of the fact that at Maiwald people from many different countries work together in a spirit of harmony and cooperation. We take gender equality and equal advancement opportunities very seriously. This is evidenced by the high proportion of women at management level.
Social commitment
Fair-mindedness and social responsibility, openness and willingness to help are not only practiced in our day-to-day interactions at the workplace, but also extend beyond it. Maiwald donates annually to charitable organizations that support and promote educational and social programs for needy children. These include:
Homework supervision at the Bergmann elementary school in the Westend district of Munich
Aktion "Adventskalender für gute Werke" sponsored by the Süddeutsche Zeitung, which provides a daily lunch to children from disadvantaged families
Locations
Maiwald in Munich
The patent and law office of Maiwald has its roots in Munich, Europe's core patent center. Most of the roughly 230 people at Maiwald work out of the Munich office. These include nearly 75 patent attorneys and attorneys-at-law, who cover all relevant specialist fields, as well as trainees and paralegals.
Our clients are very happy with the central location. Our offices are located in the Elisenhof in the immediate vicinity of Munich Central Station and close to almost all forms of public transportation: bus, underground, suburban railway and taxi ranks. The most important patent offices and courts are located in Munich; the European Patent Office (EPA), the Regional Court of Munich and the Upper Regional Court of Munich are within walking distance of our offices, and the German Patent and Trademark Office (DPMA) and the Federal Patent Court (BPatG) are also within easy and fast reach.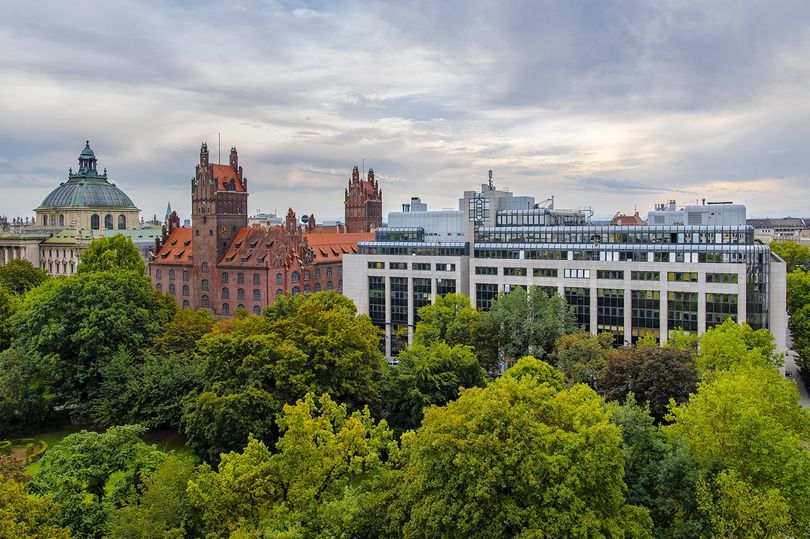 Maiwald in Düsseldorf
The Düsseldorf office, comprising a team of patent attorneys with an engineering background and attorneys-at-law, opened in 2001.
Düsseldorf is a particularly attractive location, because the Regional Court of Düsseldorf includes a highly renowned patent litigation chamber and is therefore one of the most important infringement courts in Germany. Moreover, Düsseldorf is situated at the heart of the metropolitan region of Rhine-Ruhr, one of Europe's largest industrial clusters.